A final farewell to France
After the amount of hospitality and generosity we were shown last week, we really didn't think things could get better. Yet during this past week - our final days paddling through France - we have received an almost overwhelming amount of kindness on a daily basis.
We left Nancy after a few days of rest and an impromptu interview and photo shoot with a French newspaper. Accompanied by a cloudless blue sky and temperatures that soared into the thirties, we happily paddled out of the city and back into the familiar rural landscape of tree-lined canal and farmland gently rolling away from us.
That evening we stopped to pitch up our tents on a small grassy patch near a picnic bench and moored boat. As we were emptying our numerous bags out of the storage hatches in our kayak Benji, the gentleman from the neighbouring boat came over to offer assistance and use of their shower. After a long, hot day we were grateful for the opportunity to freshen up and gratefully accepted. As the conversation with Texans Katie and Skip unfolded, we were invited to stay for a glass of wine. This in turn led to us joining them for a delicious beef bourguignon on the picnic bench as the sun set behind us and we were dispatched back to our tents later that evening feeling extremely content.
The following day got off to a fantastic start as we joined Katie and Skip for fresh coffee and orange juice on their boat. However, later that day things took a potentially catastrophic turn.
Weeks and weeks ago when we crossed the Belgian border back into France, we were given a letter of authorisation permitting us to use the waterways and locks. However, there seemed to have been a key detail lost in translation: the authorisation was only valid in the region it was issued in, which we were no longer in. We learned this the hard way, as an official from the French waterways agency turned up to kick us off the water, forbidding us from continuing to paddle.
Before we could process what was happening, our remote control to operate the locks had been confiscated and the man had driven away, firmly telling us we were not permitted to be on the water. We were left bewildered and shocked, on the side of the canal in the middle of nowhere in rural France. To make things all the more frustrating, we were at 999km, a mere kilometre from our 1,000km milestone.
We're not sure what prompted him to do so, but twenty minutes later the man returned. After giving us the opportunity to explain what we were doing - that we'd paddled all the way from London, crossing the English Channel and hundreds of kilometres across France and Belgium unsupported - he started to realise that he was getting in the way of something much bigger than just two girls out for an illicit paddle.
Somehow we managed to convince him to let us continue. Several phone calls later and he had persuaded his superiors to issue a new authorisation for us, valid all the way to the French border in Strasbourg. Our lock remote returned, we continued on our way feeling so relieved that we almost passed the 1,000km mark without realising.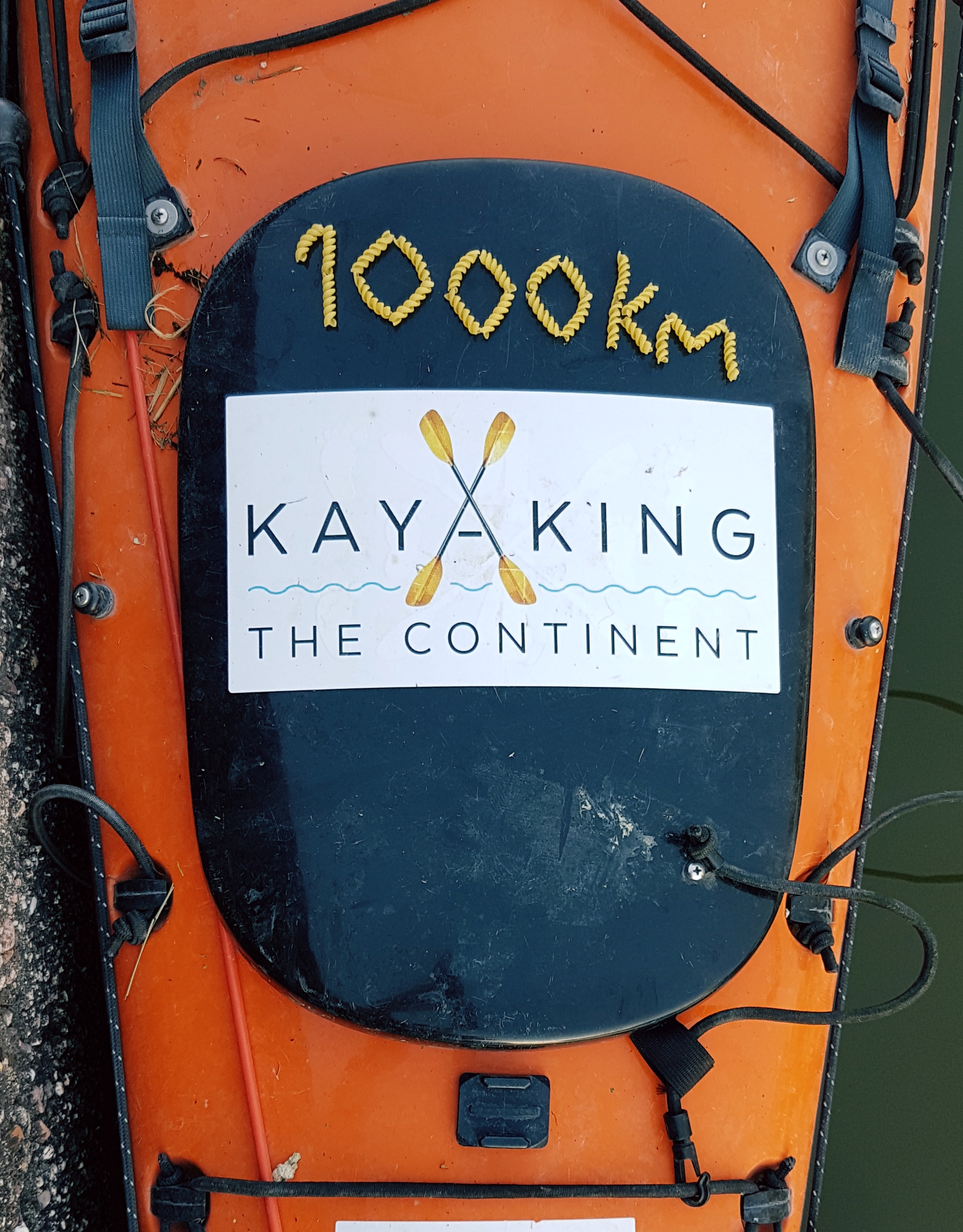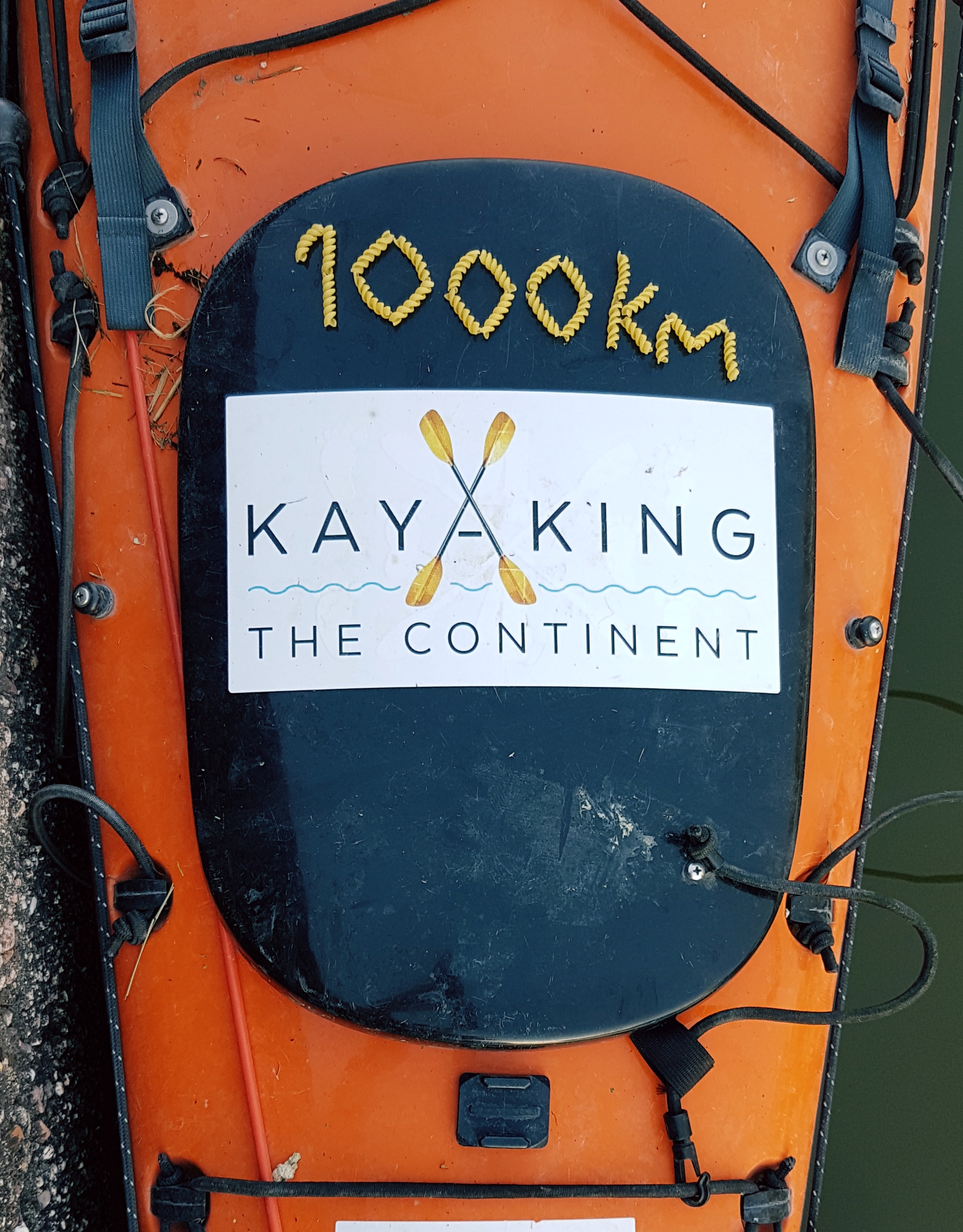 In the end, the whole ordeal worked to our favour: every time we arrived at a lock with an attendant, they were expecting us and we could paddle through without the usual demand for an explanation or proof of authorisation.

To our surprise, this included the terrifying 16m deep Réchicourt lock, the deepest "Freycinet" lock in France. Unlike all other locks we've encountered where the gates open like doors, the gate on this lock is suspended above the opening to the lock. After paddling under it, we looped our rope around the mooring post as instructed. As Anna desperately clung onto the rope, we watched as the immense gate slowly plunged into the water. Finally sealed inside this watery tank of terror, we were committed.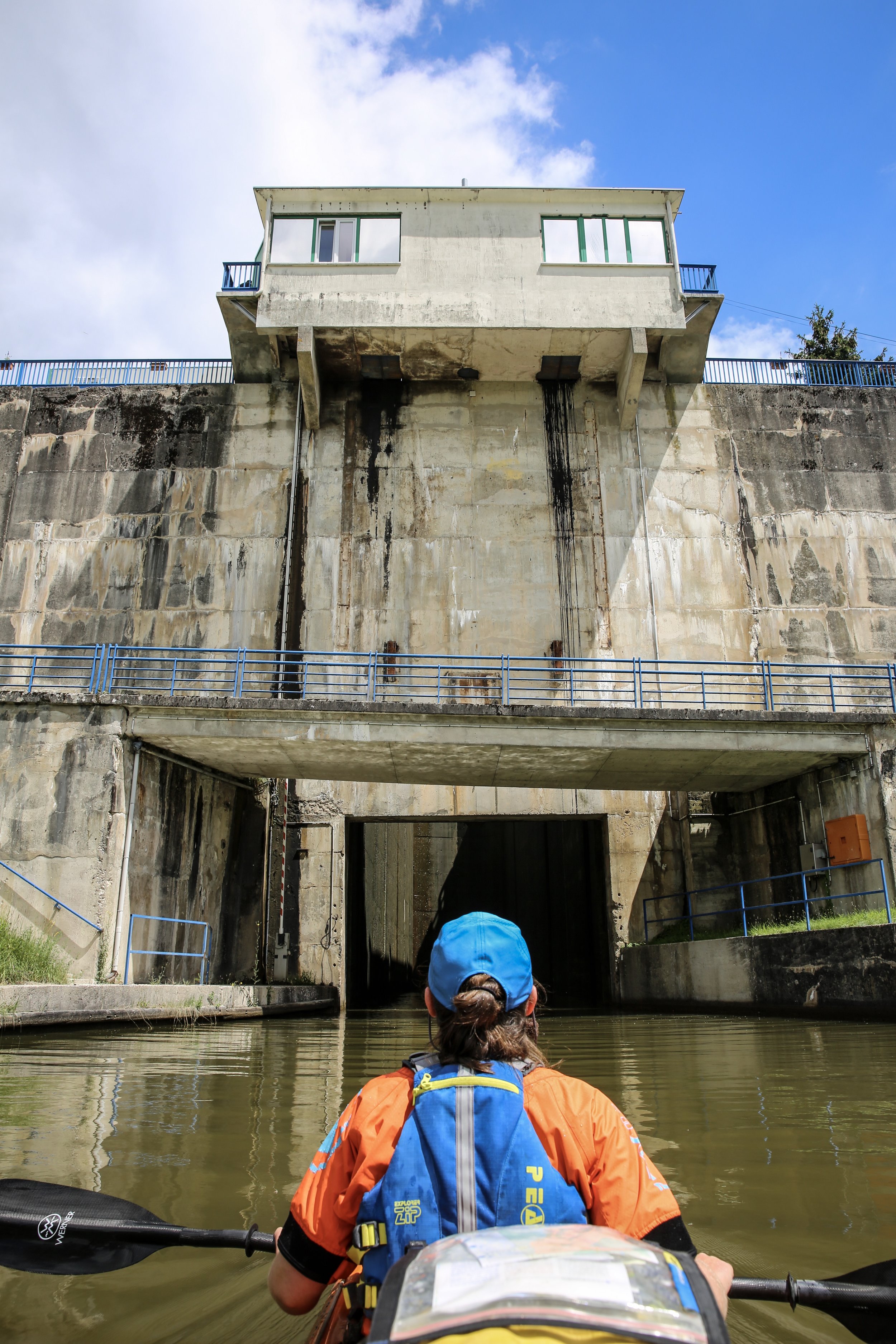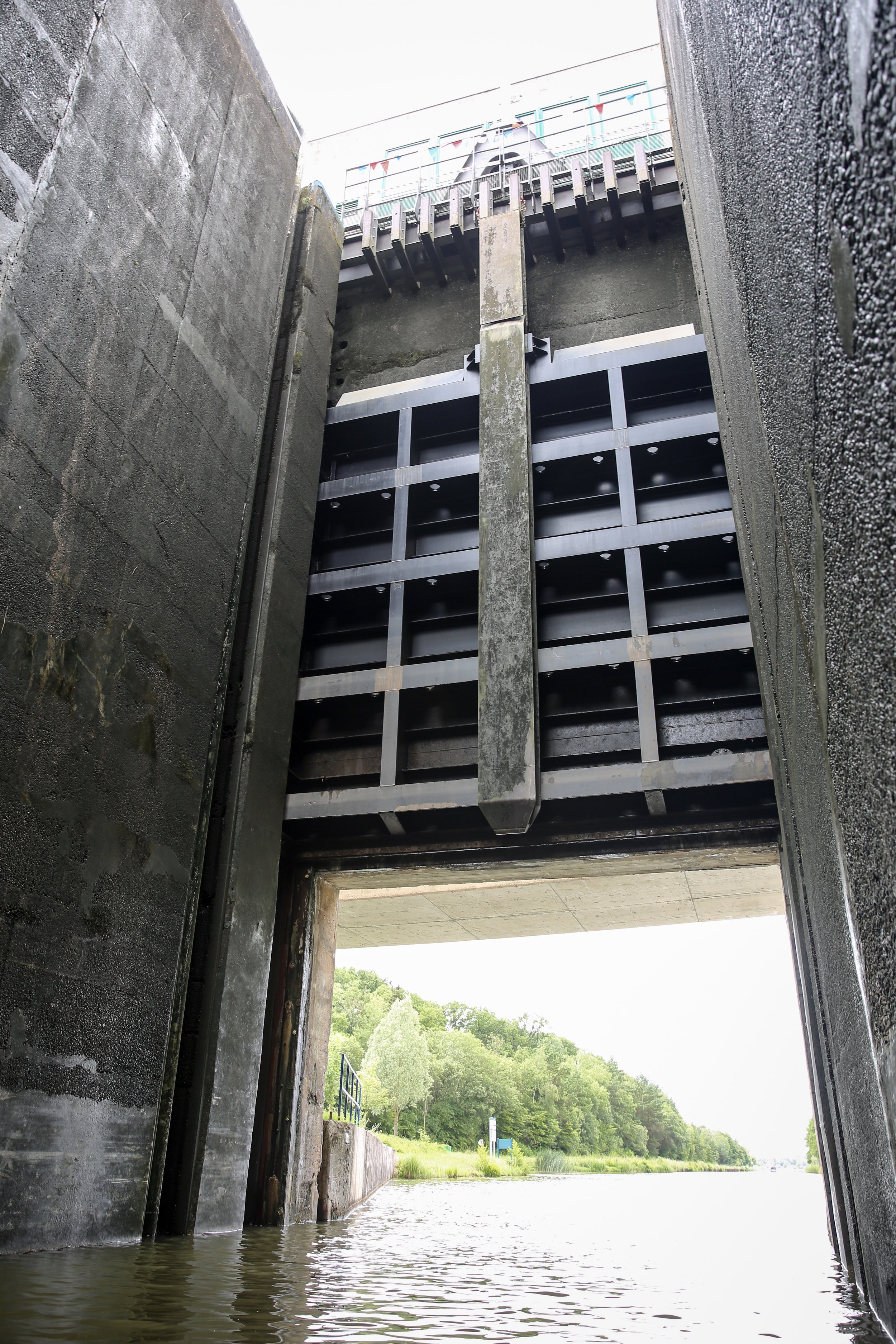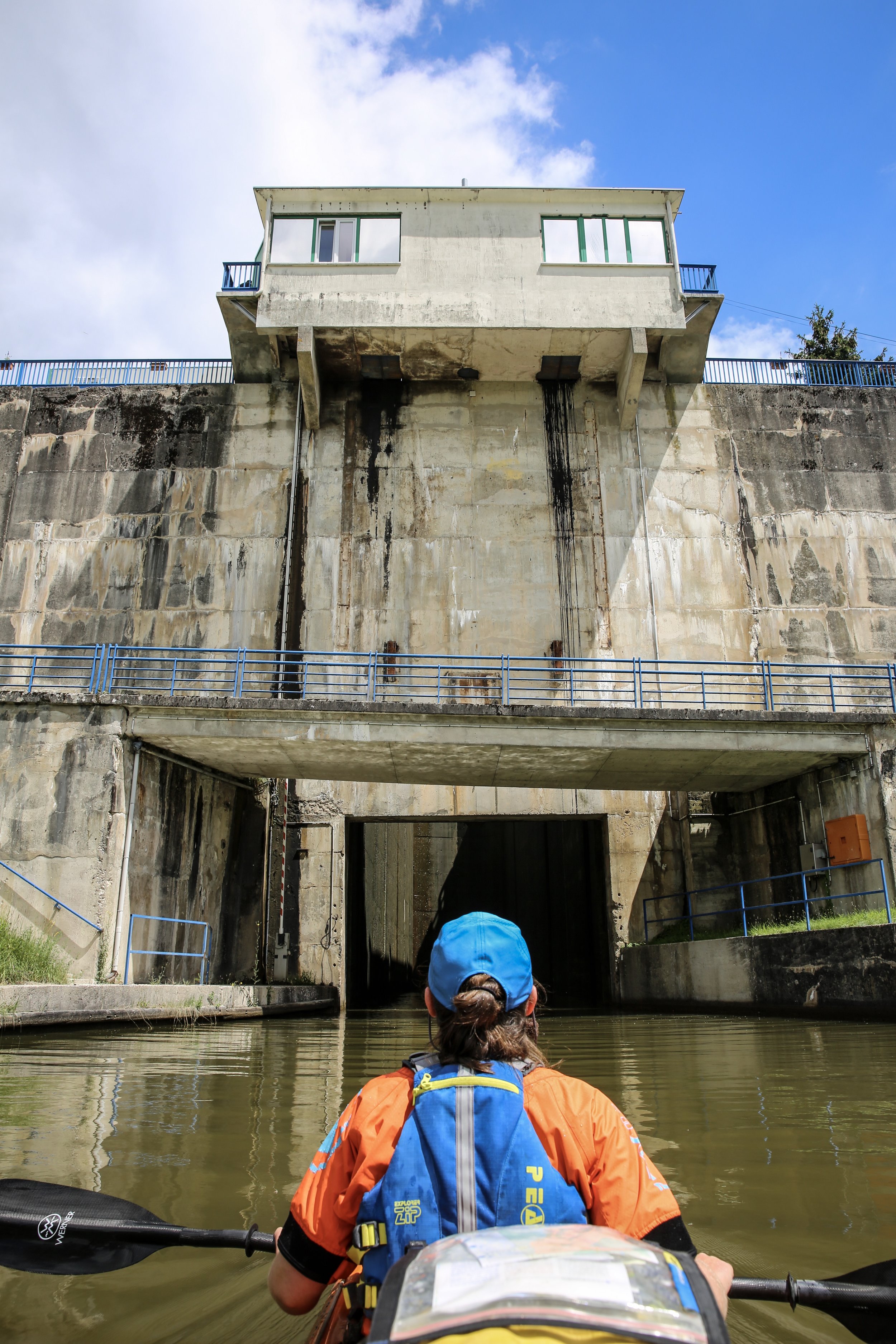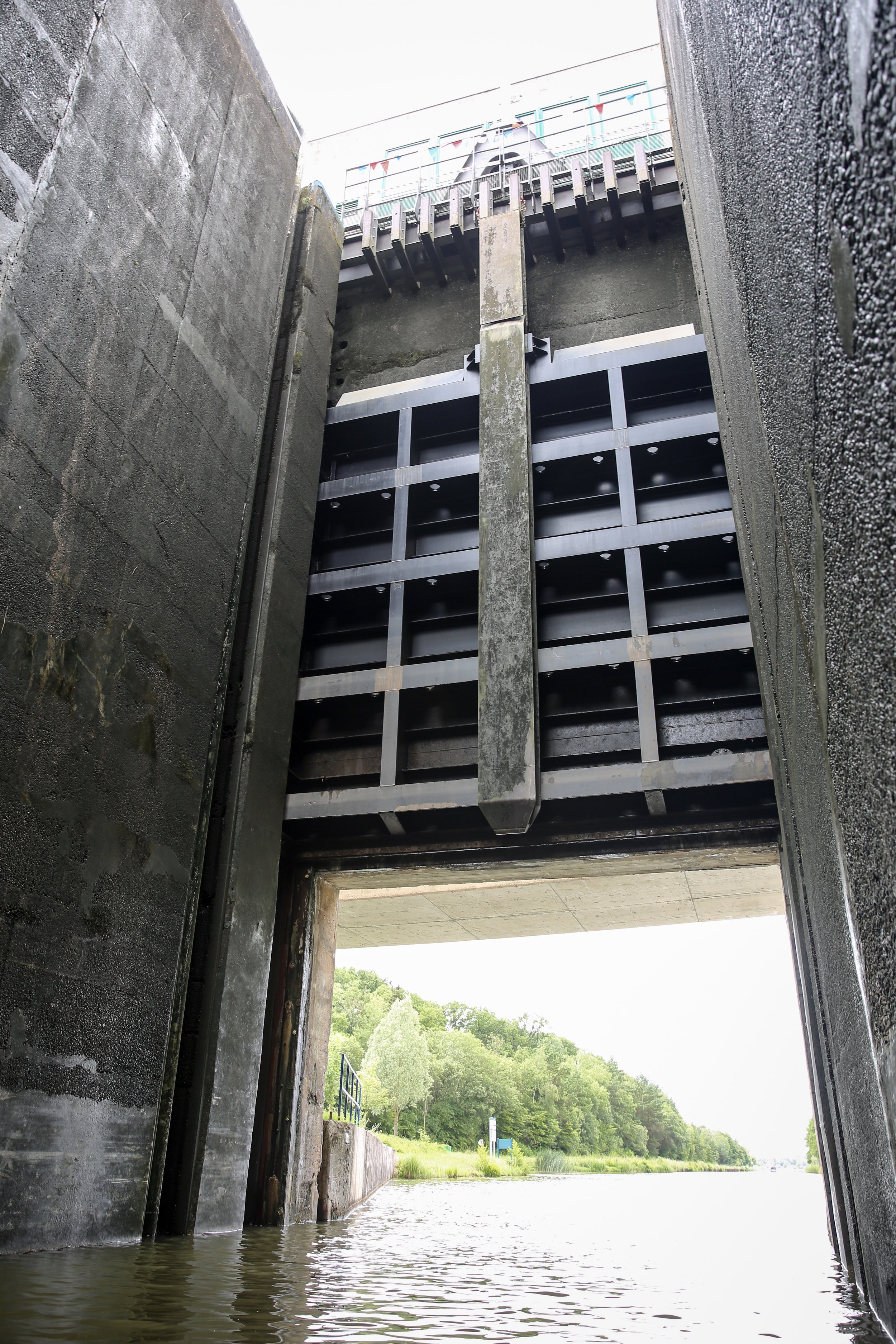 Fifteen minutes later we emerged at the top of the lock, hands shaking slightly but otherwise in one piece! After all the excitement of the past few days we were both feeling quite tired. We therefore decided to stop an hour earlier than planned when we paddled past an inviting camping spot near a large converted barge. This decision paid off: once again, as we were setting up camp for the evening, one of the people onboard the barge came over to invite us to join them for dinner.
After a quick wet-wipe clean, we headed over to greet our hosts for the evening. This time we were to join two Swiss couples from Basel; Rudi, Peter, Suzanne and Bobby. We spent the whole evening with them, both wolfing down several servings of risotto while our wonderful hosts watched on in bemusement, ensuring our wine glasses were always topped up.
The following day brought with it more exciting features on the canal: our day began with two tunnels, the second of which was almost 2.5km long. Not long after that we arrived at the Saint-Louis-Arzviller inclined plane, a type of boat lift that manoeuvres boats 45m up and down an incline in a sealed tank. Again, we were not entirely sure whether we'd be allowed to use it but the operating staff had no issue with us paddling in behind another boat (and compared to the previous day's lock this seemed like nothing).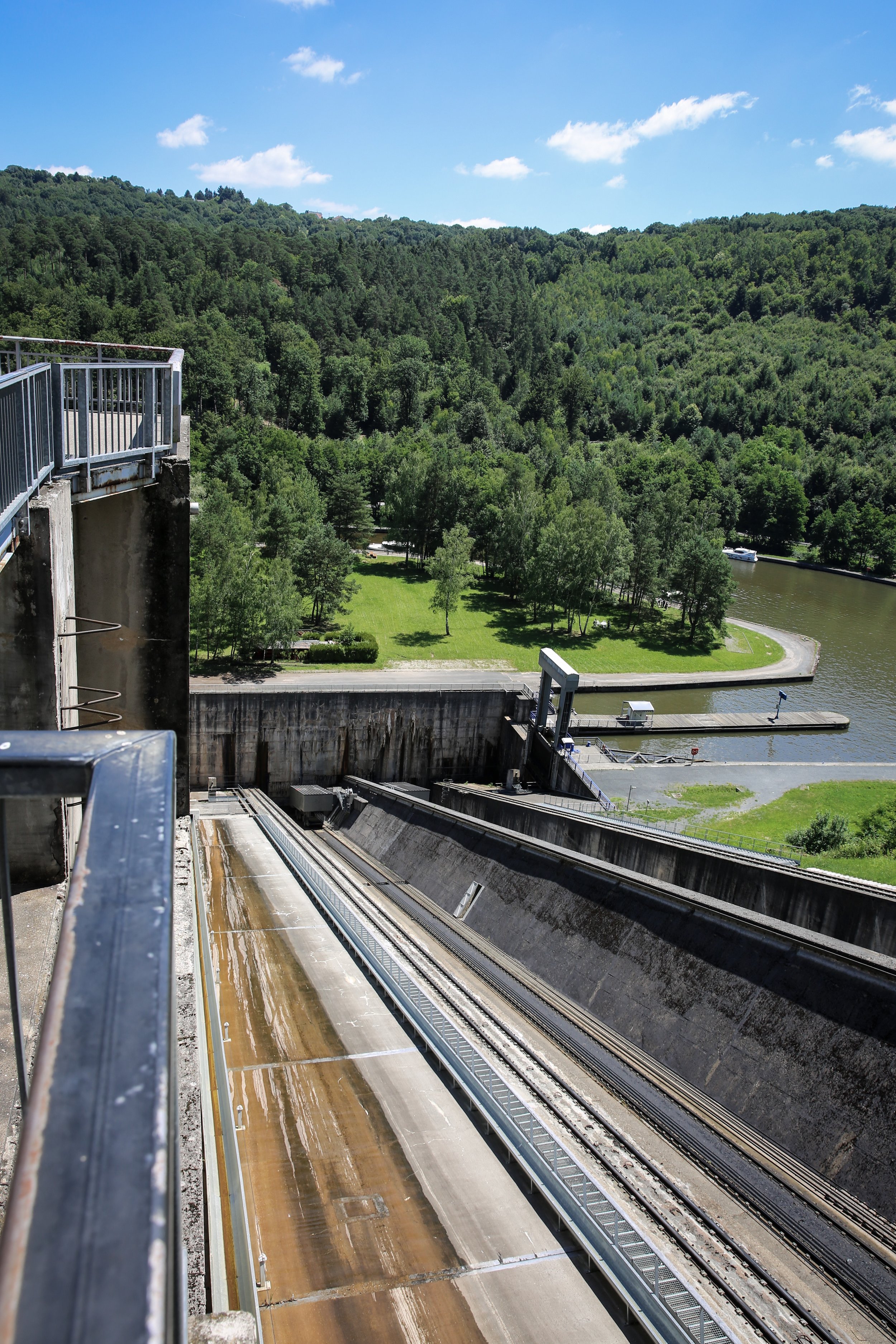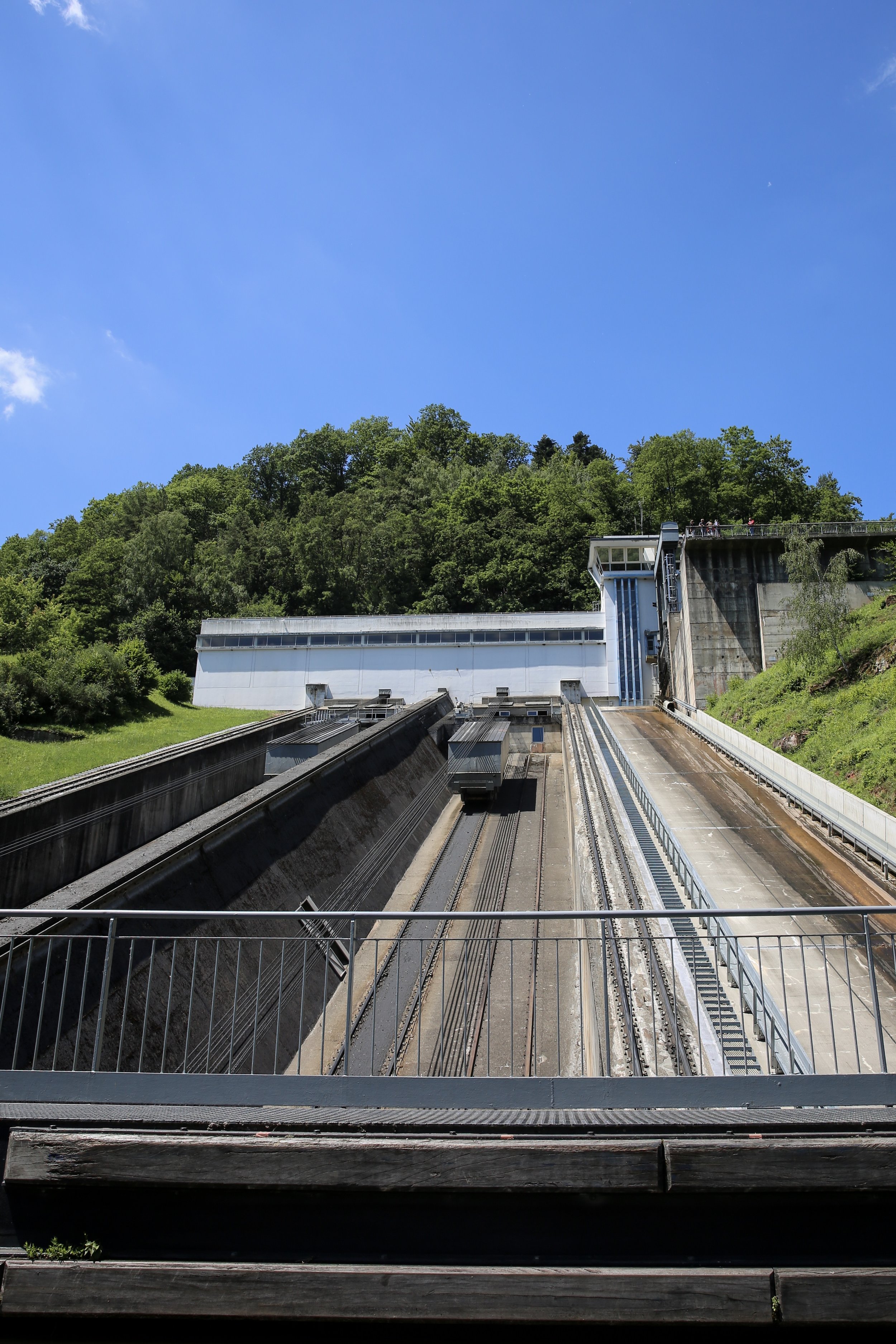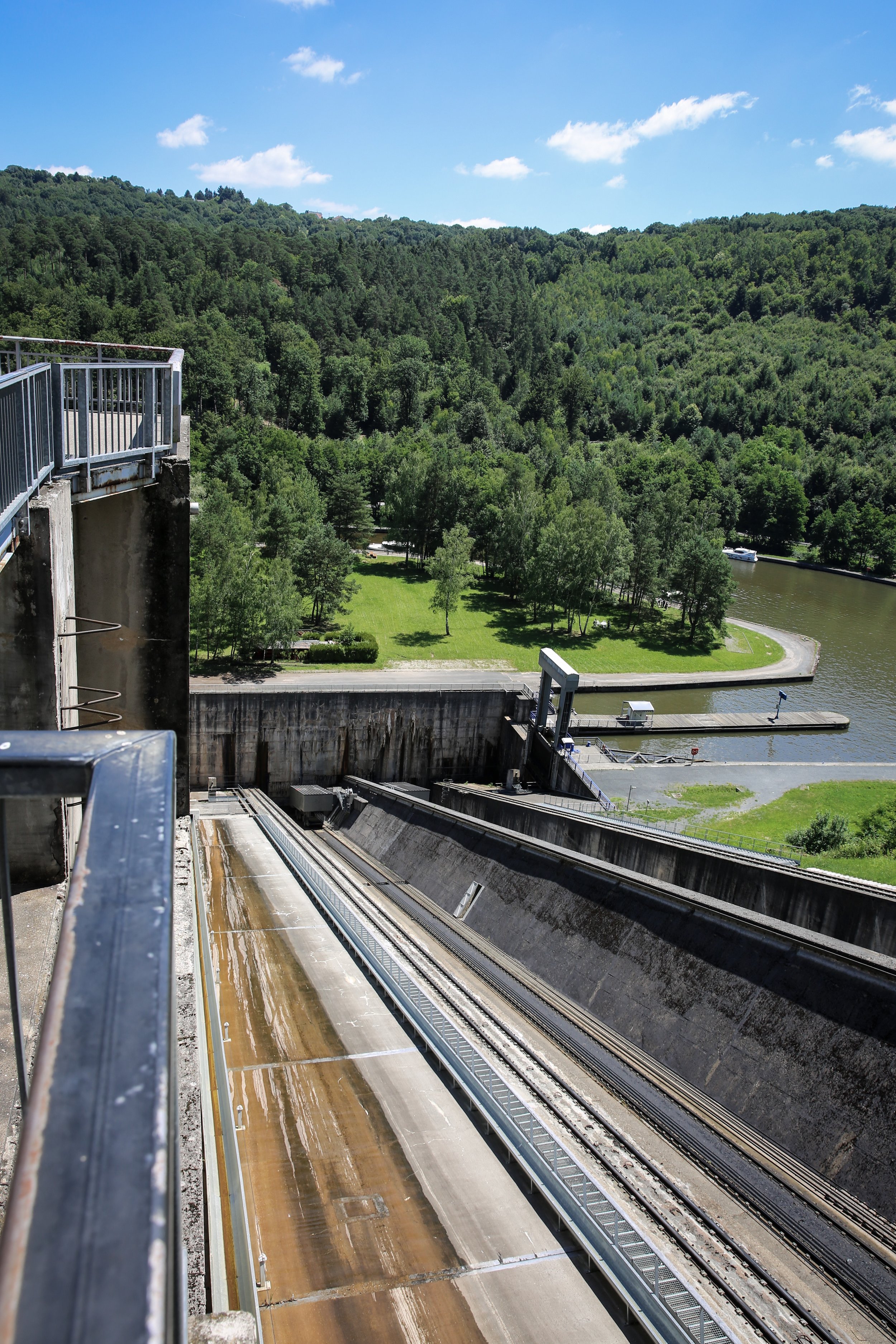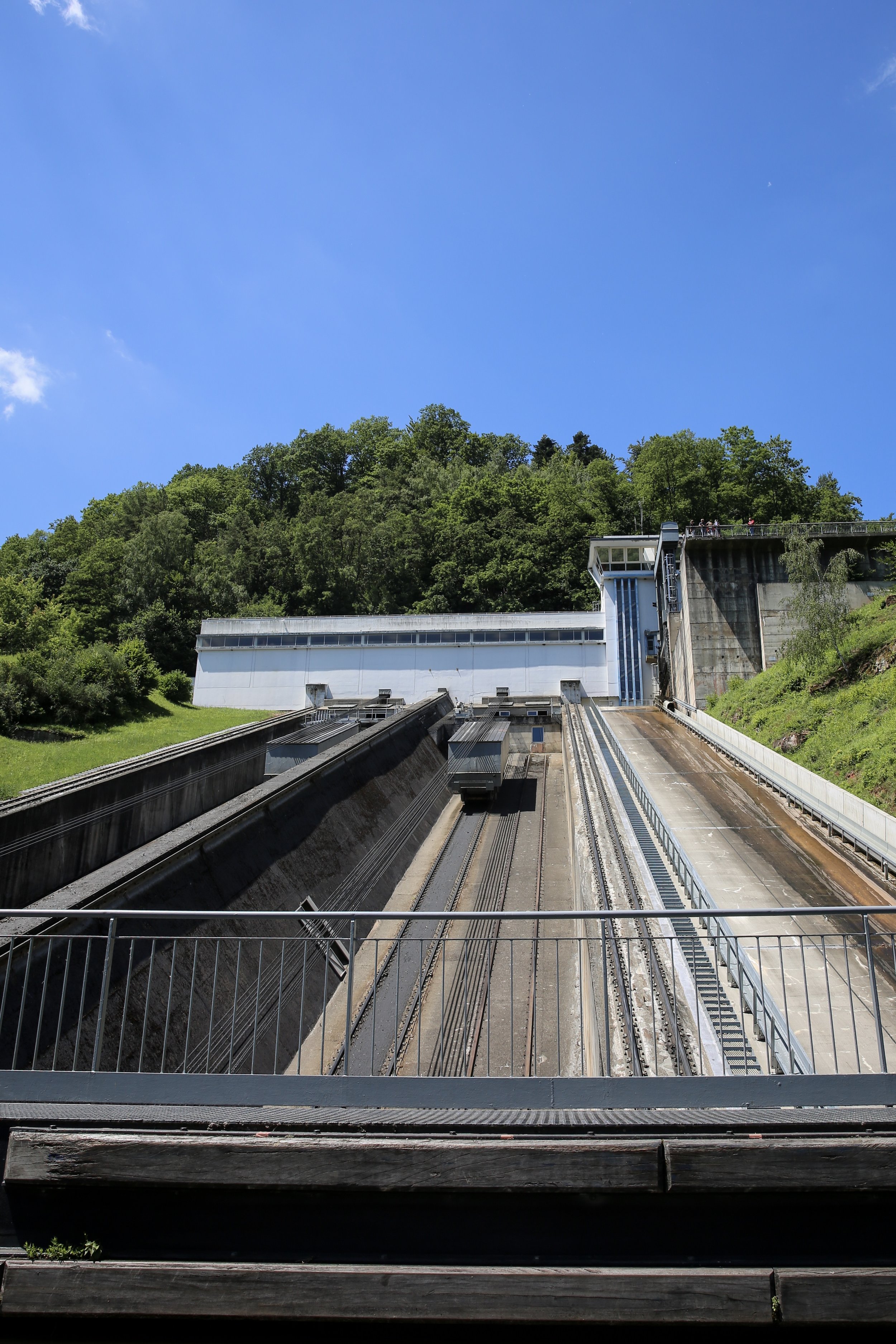 The occupants of the boat we shared the lift with were intrigued by the kayak bobbing around behind them and began the usual line of questioning. Happy as always to explain our mad adventure, we chatted away with them, eventually being invited to join them for lunch. The group of eight from Germany certainly knew how to lay on a feast and it was somewhat of a struggle to continue paddling after the numerous courses of freshly cooked food.

From there we observed a change in the landscape. We were now surrounded by the forested slopes of the Vosges Mountains, paddling through dense valleys. The number of boats on the water skyrocketed; the stretch of canal around the inclined plane is incredibly popular with holidaymakers on rental boats. Some of their lack of experience of handling boats was evident and we quickly learned to keep out of the way of the rentals!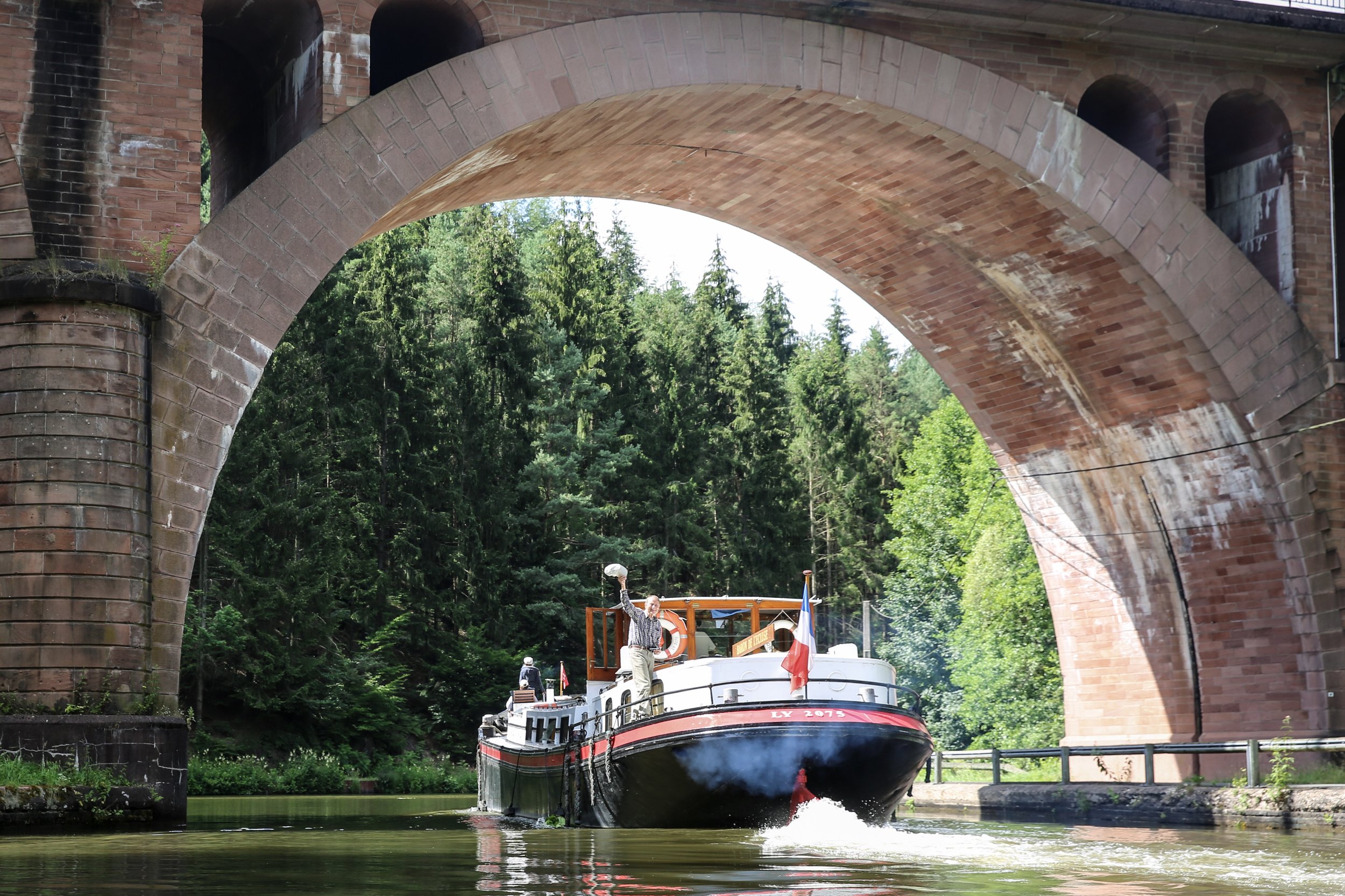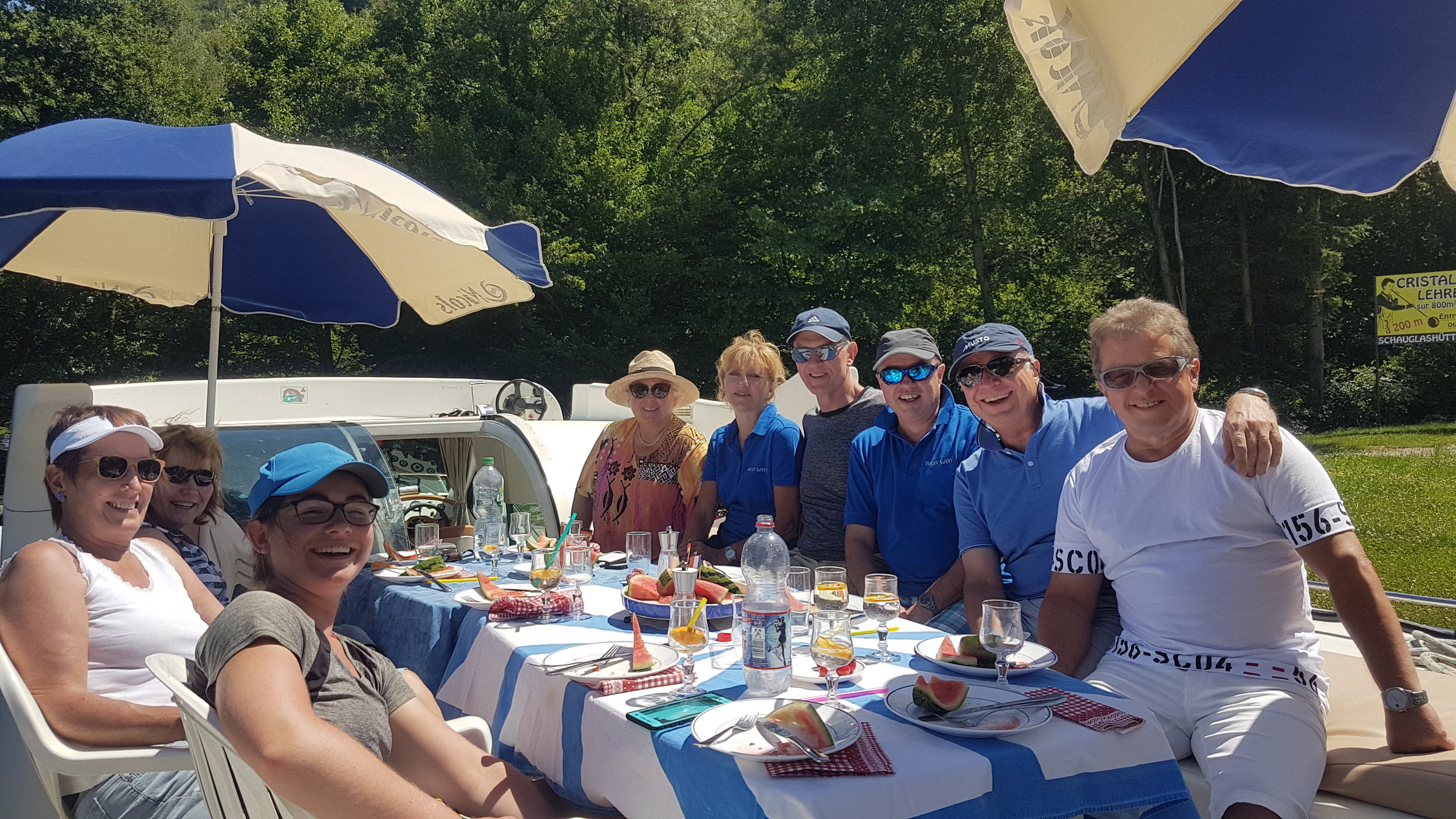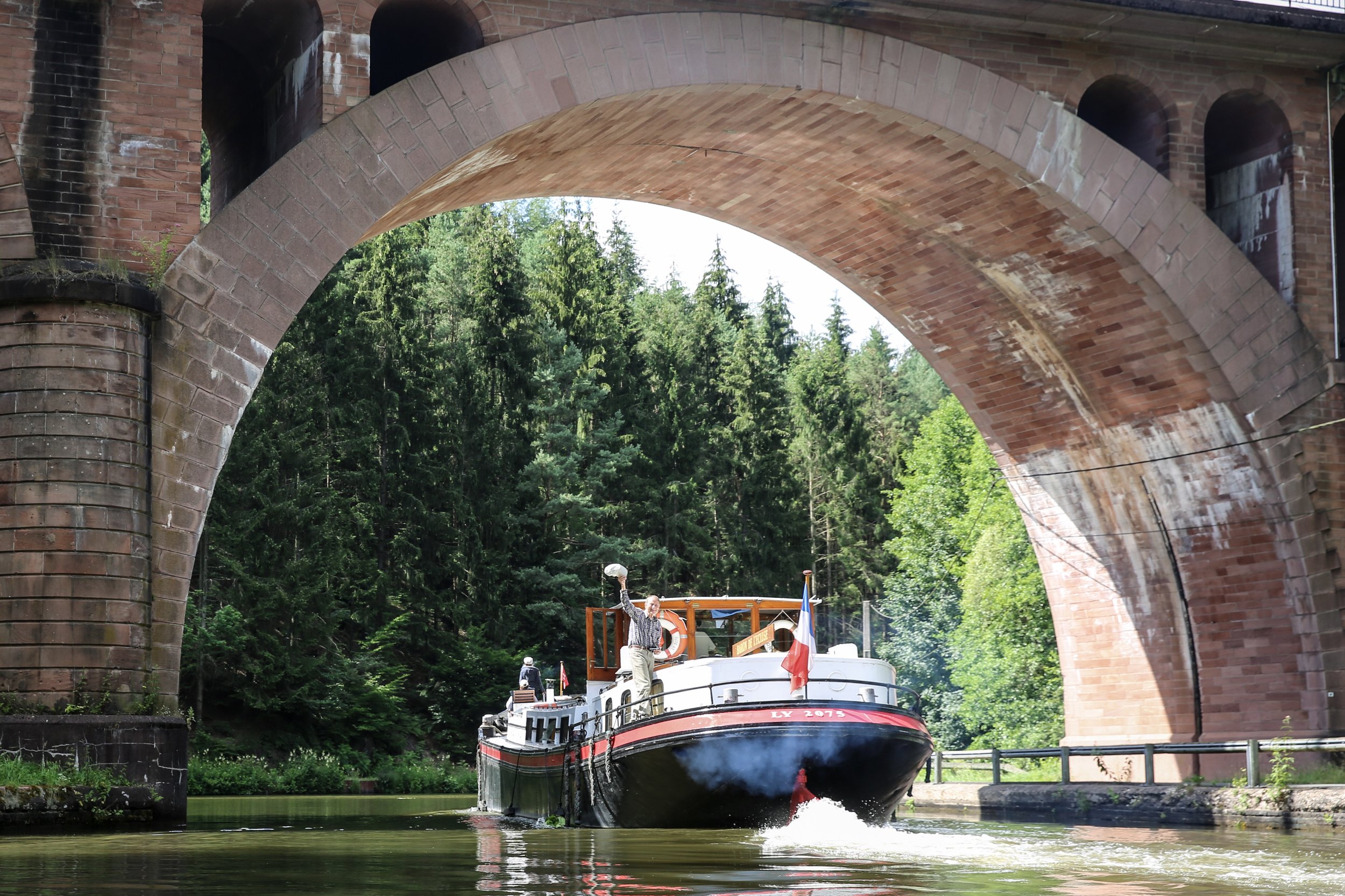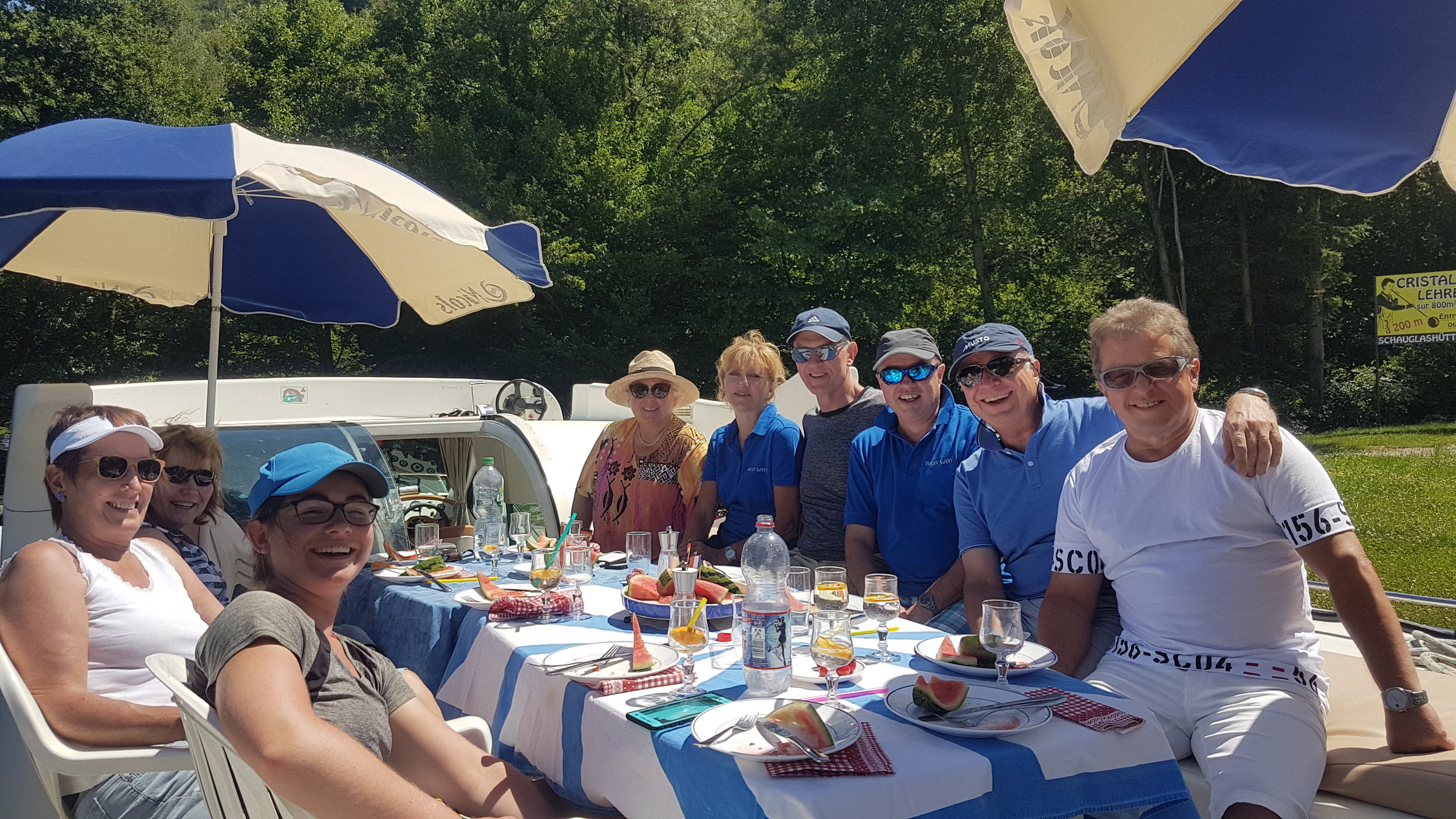 Our penultimate day before reaching Strasbourg was set to be a long day: not only did we have a large distance to cover, we also had a record sixteen locks to get through. This could have potentially been very time-consuming, but to our great relief we were met at every single one by the waterways agency operating staff who were there to make sure everything went smoothly for us. A perk of this was that we had enough time to stop and explore the beautiful town of Saverne, venturing into the busy Sunday market for churros and crepes.

Continuing with our afternoon we were soon met with our next generous offer of hospitality. This time, we were invited to join English couple Ian and Susan for homemade fruitcake and a cup of tea. Knowing we were already slightly behind schedule, we took a micro-pause to discuss whether to accept. We both fully agreed that we absolutely should join Ian and Susan; while we are ultimately here to paddle, it is moments like these that are making this trip so memorable and such an incredible joy for us to be embarking on.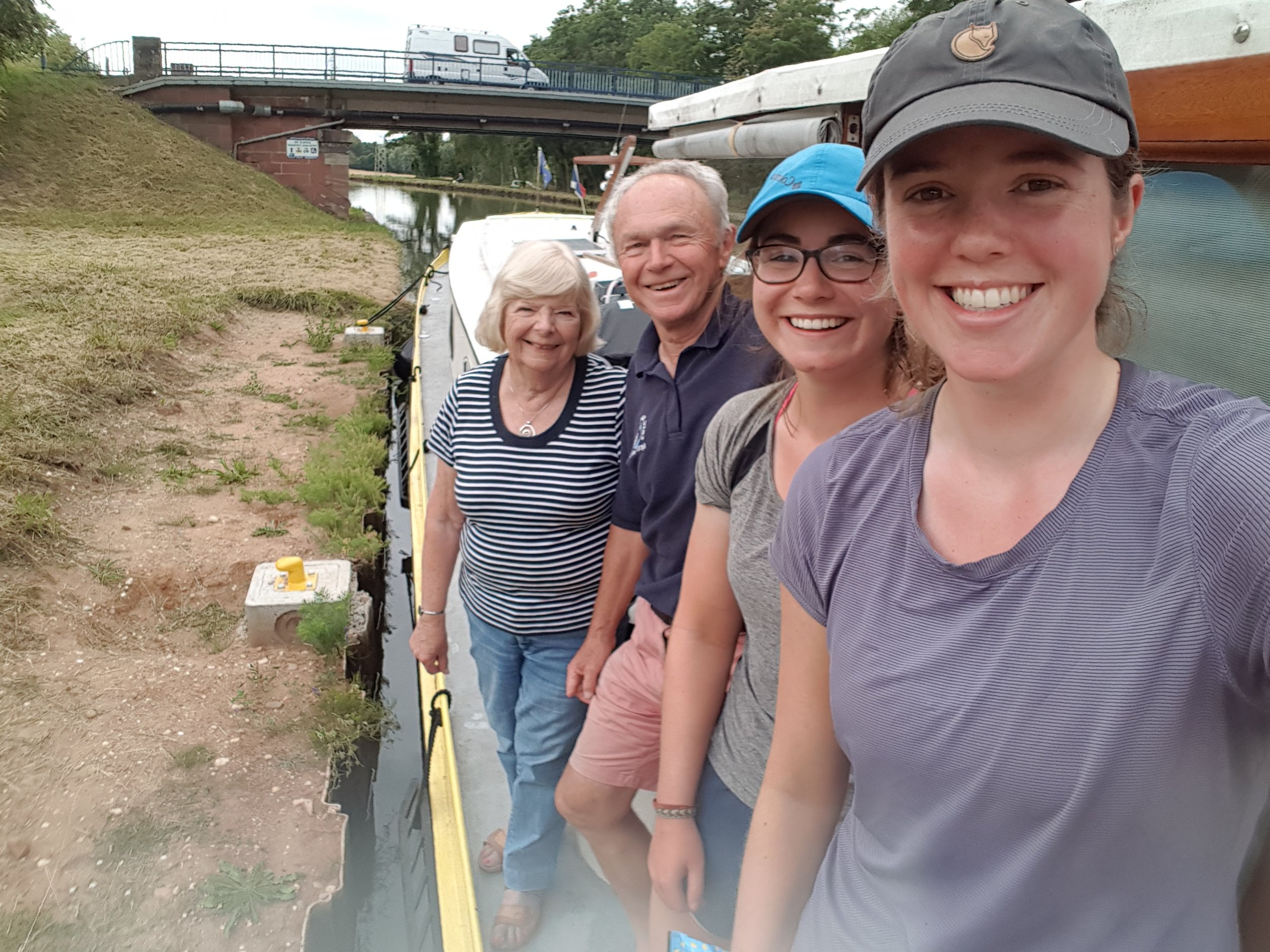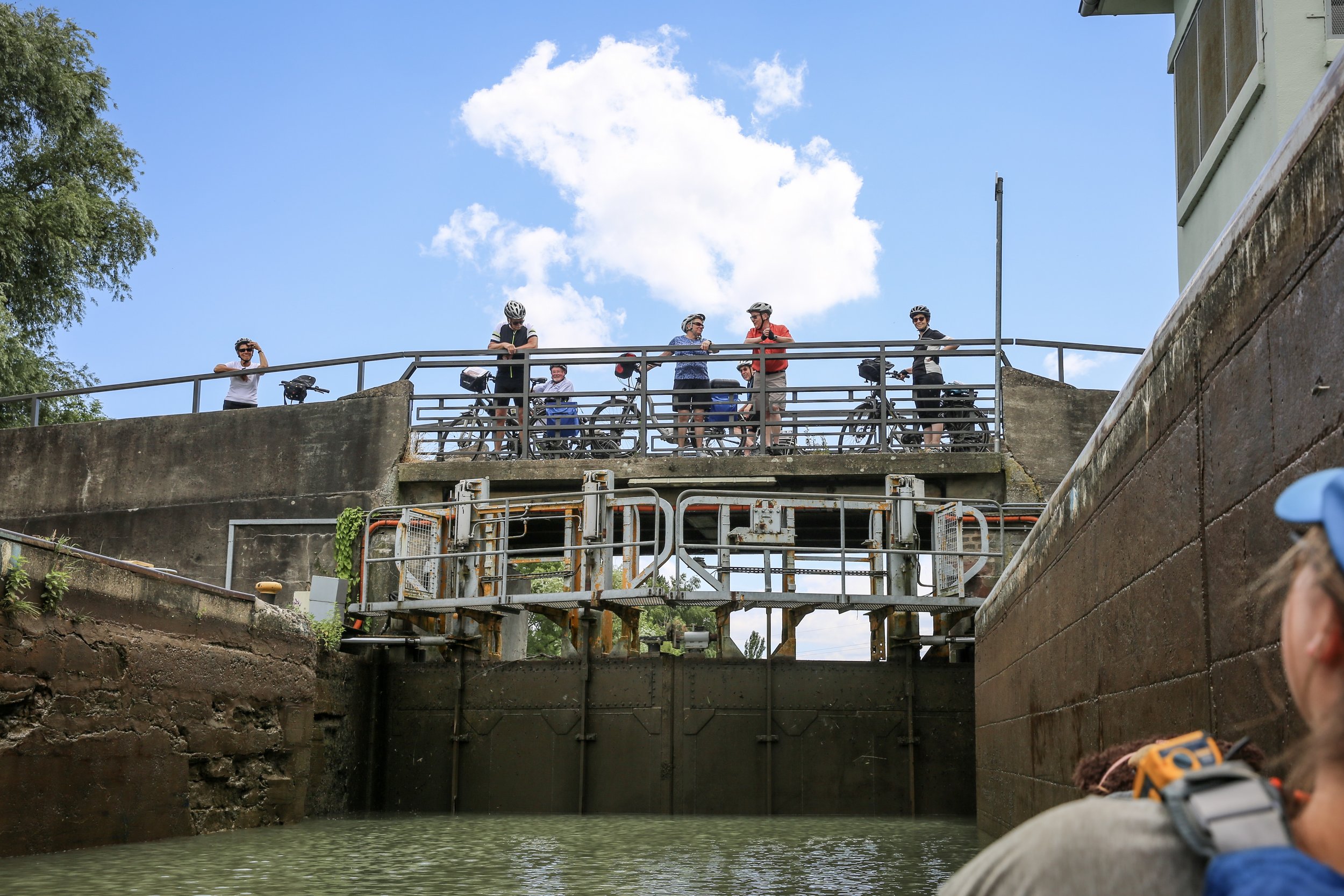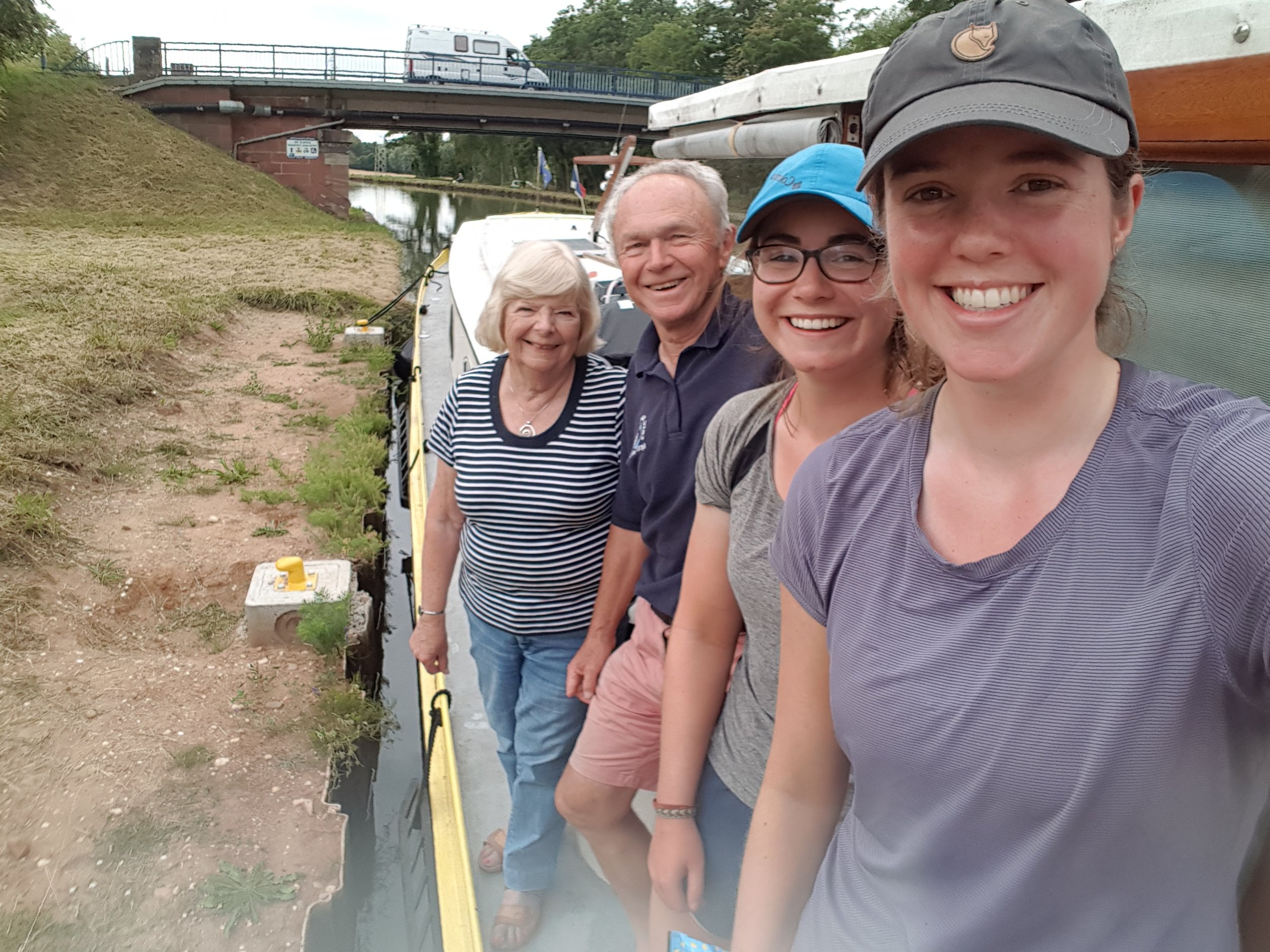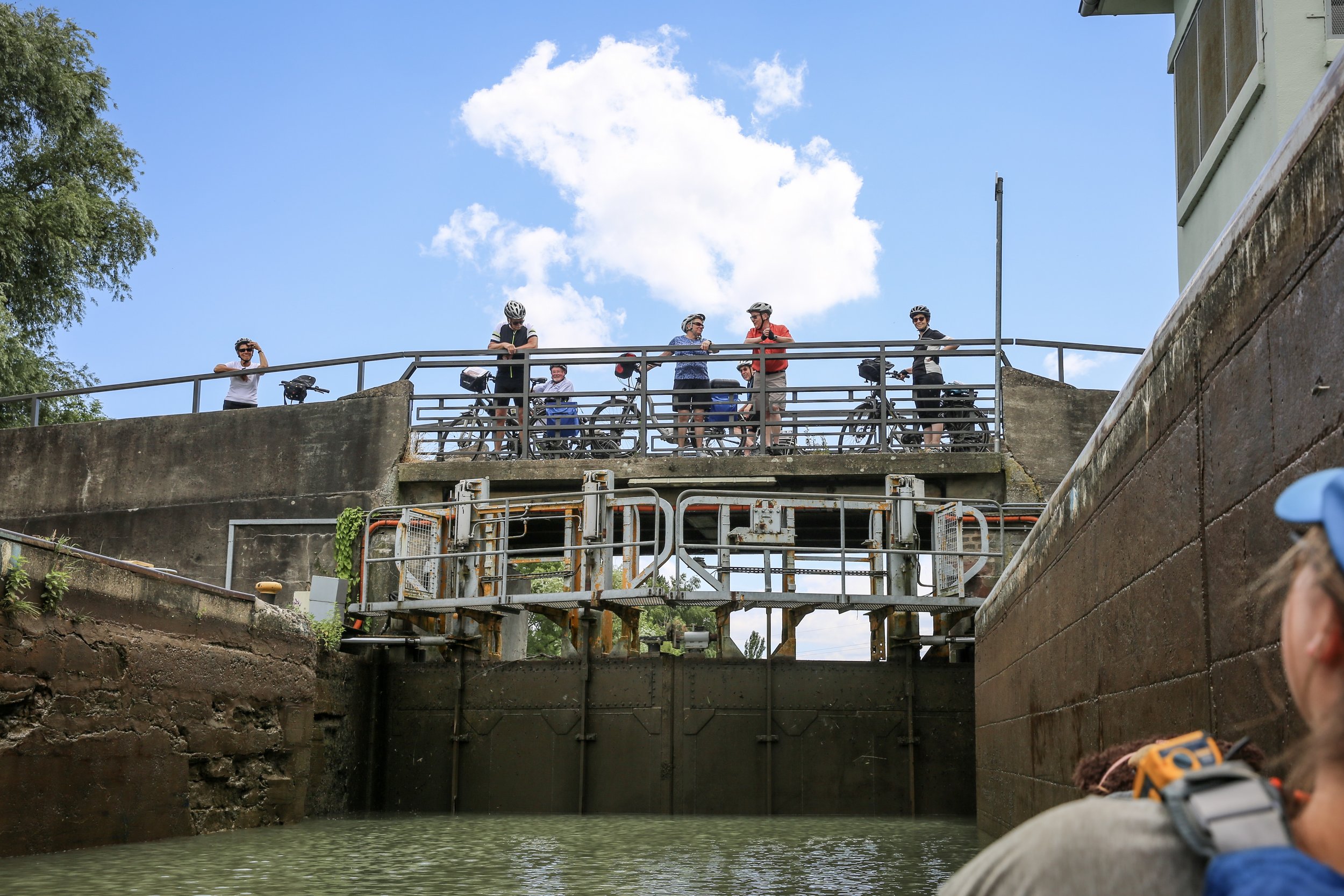 Our share of generosity for the day was not yet up however; after waving farewell to Ian and Susan (armed with a fresh supply of chocolate) we met Yanic, who was responsible for getting us through the final set of locks for the day. He fully took us under his wing, driving alongside us with the radio playing and even detouring past the office to fetch us snacks and water.

Reaching the end of the day, we were starting to look for somewhere to camp. Once again Yanic was on hand to help and he arranged for us to camp in the back garden of the house closest to the canal. The lovely couple who lived their let us use their shower that evening and in the morning we were greeted with fresh pastries from the boulangerie and coffee, the best way to start our final day of kayaking in France.
On Monday afternoon we arrived in Strasbourg. This marks the end of France (and Belgium) and its network of canals and rivers that we've spent the last six weeks navigating. We've now covered over 1,100km and ticked off 164 locks (only 74 to go across the remaining 3,000km). Next up is Germany, our fourth country. Suffice it to say France is going to take some beating!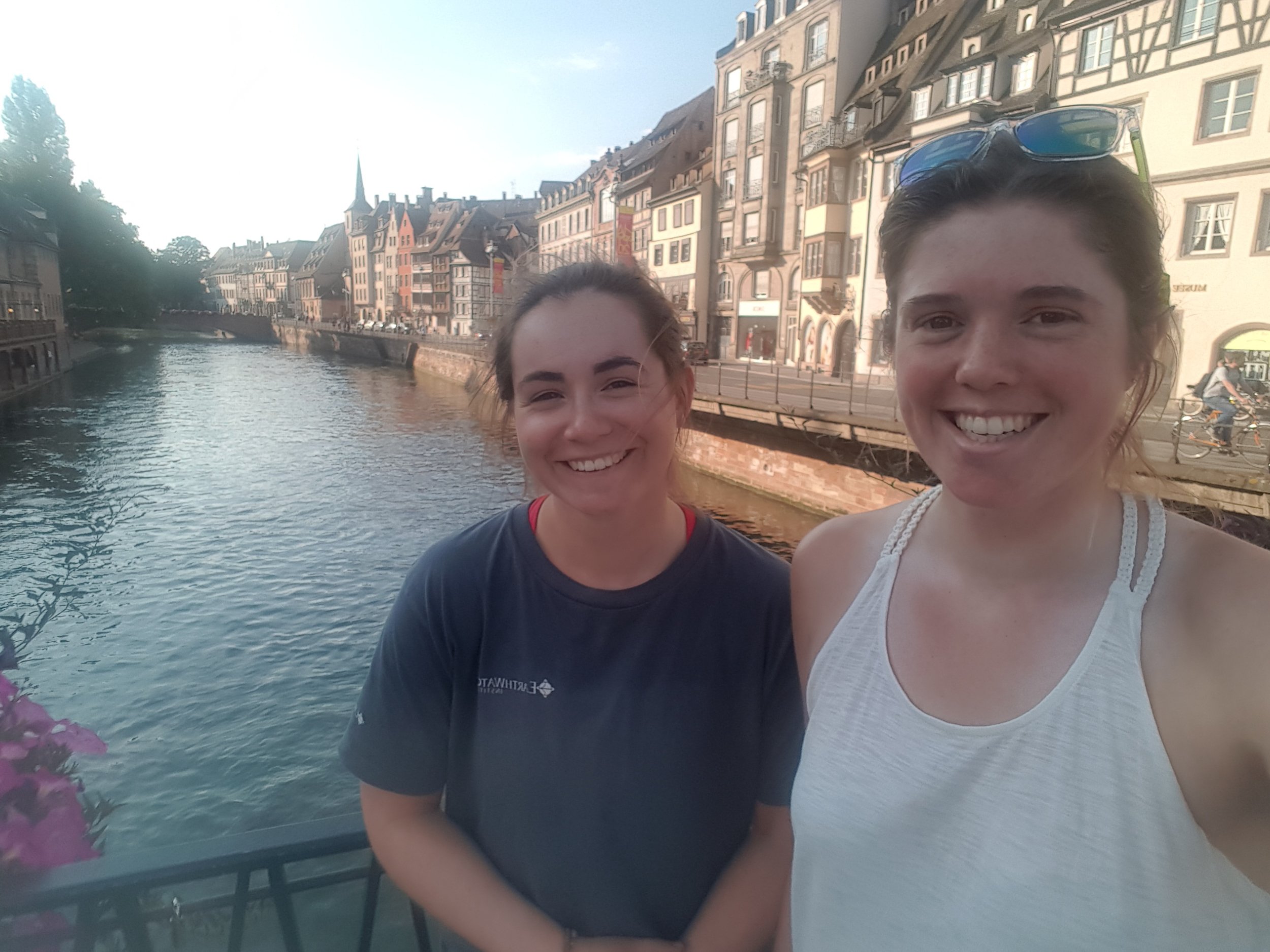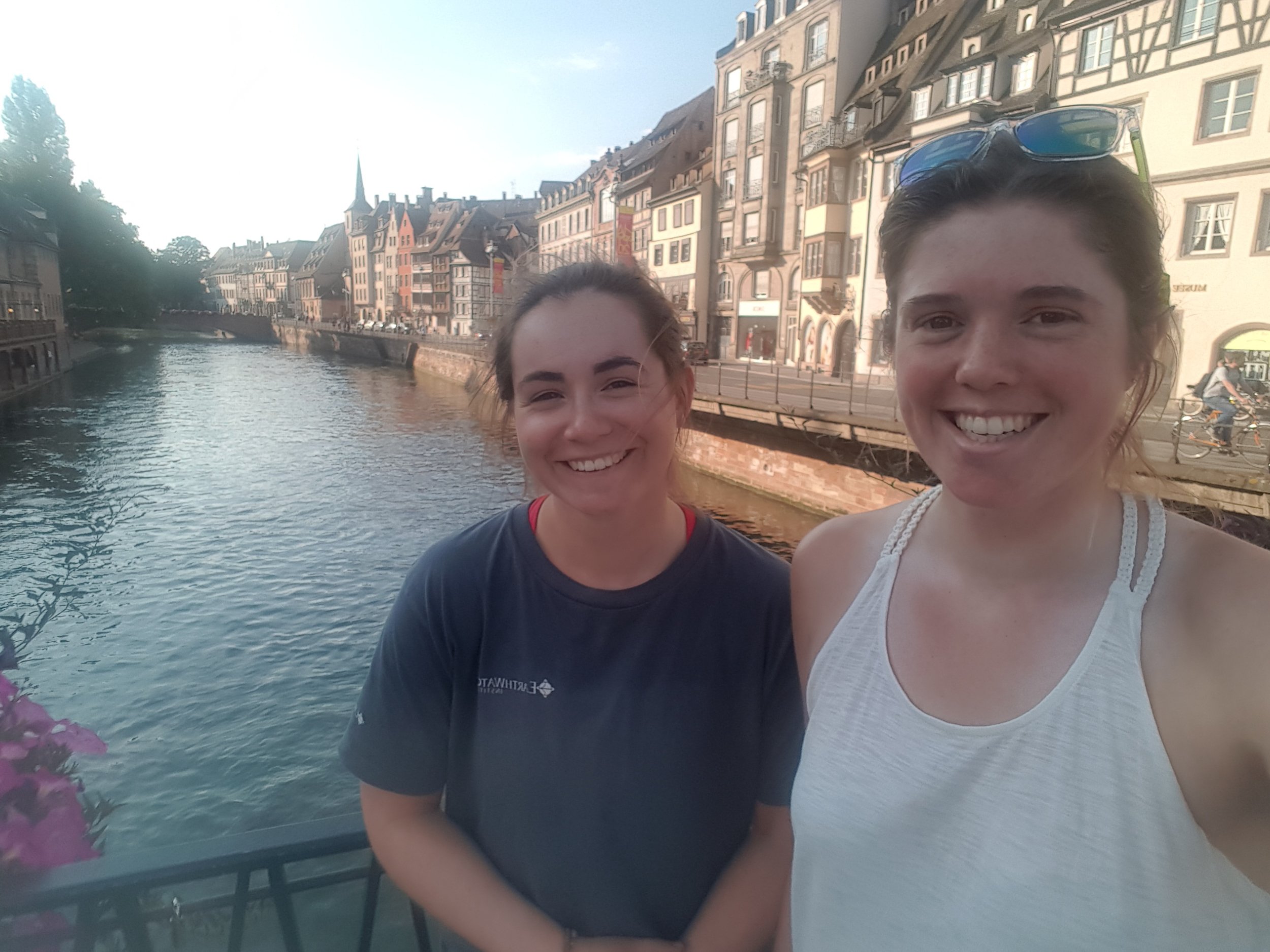 We would like to say a huge thank you to Guy Jacob at the Europe Boat Trading marina in Strasbourg for providing a secure home for Benji during our stay in Strasbourg, as well as making sure we successfully got through the first lock onto the Rhine!